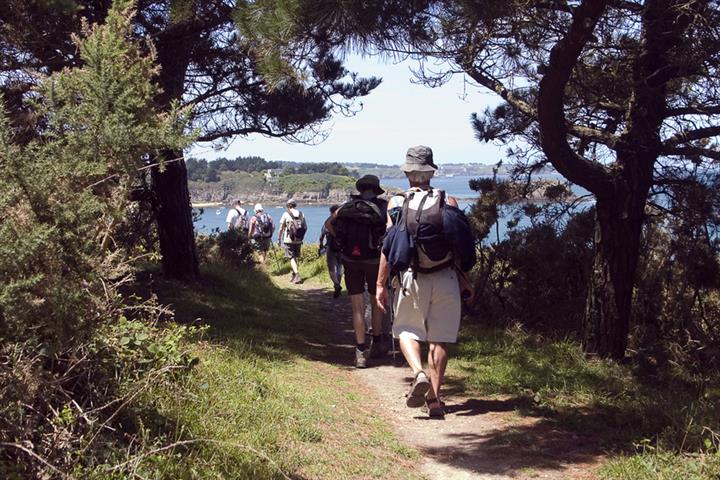 In the surroundings
Walks and hikes in the Guérande peninsula
South Brittany has some beautiful escapes in store for you. Discover the walking and hiking trails, accessible on foot, by bike, on horseback or in a stroller… as you wish!
Prepare your itinerant hike on the Sentier des Douaniers in Brittany, the GR 34, in a few clicks thanks to the practical information available on www.itirando.bzh.
You will find all the information you need to organize your course.
Stroll along the wild coastline, along the Brière marshes and the banks of the Vilaine River. At the bend of the salt marshes and along the path of the customs officers, you will discover a natural and historical heritage rich and varied.

From the campsite, recommended tours in the Guérande peninsula:
Le traict de Pen Bé – Assérac / 23Km – 5h45
La Côte sauvage – Le Pouliguen / 9,5Km – 2h30
The coastline tour – Le Croisic / 10Km – 2h30
The banks of the Vilaine – Férel / 15 Km – 3h45
Between sea and Vilaine – Pénestin / 12 Km – 3h
Link Camoël – Férel / 7 Km – 1h45
The castle of Ranrouët – Herbignac / 8Km – 2h
La pointe de Merquel – Mesquer, Piriac-sur-Mer / 16,5Km – 4h15
The circuit of the duchess – Saint-Molf / 5,5Km – 1h20
Between thatched cottages and marshes – Saint-Lyphard, Guérande, Herbignac / 6,5Km – 1h45
La pointe du Castelli – Piriac-sur-Mer / 10Km – 2h30
The hillsides – Guérande, La Turballe / 13Km – 3h15
Les Granits de Batz – Batz sur Mer / 13Km – 3h15
Les mottes – La Baule, Saint-André-des-Eaux / 11,5Km – 3h
La petite marchande – La Baule, Saint-André-des-Eaux / 10Km – 2h30